Health and safety in the machine workshop
Personal safety is paramount in the workshop. Health and safety should be on the minds of the people in the workshop at all times as the workshop is a dangerous place. Small safety precautions can be put into use and enforced to prevent accidents or minimise the damage to property or people in the event of an accident.
What do i know about health and safety?
I know that personal safety can be increased by wearing the right protective equipment, Acting appropriately in the workshop, and always keeping your mind focused to avoid unneccesary accidents because of innappropriate use of tools and equipment.
What have i now learnt about health and safety?
I have learnt more about the equipment involved to protect yourself , the procedures if an accident happens in the shop and how to look after injured people.
Some Information on protective equipment:
Personal safety:
Overalls: Overalls offer protection of clothing in a dirty workshop, as well as protection against cuts and chemicals touching the skin. Should be made out of cotton in a workshop enviroment as they are flame retardant.
Boots: Boots Should be steel cap and strong to protect the feet from possible heavy falling objects, also helps with grip and protection from dirt.
Gloves: Protects the hands from Hot surfaces, chemicals, cuts, and general hand injuries. Should not be worn whilst operating rotating or high speed power tools as ther is a risk of the gloves being caught.
Eye protection: Safety goggles can protect your eyes from many hazards like:flying bits of metal from a lthe or drill, chemicals, sparks off a angle grinder and many other things. When welding further protection is needed to filter the harsh rays from your eyes.
Ear protection: Ear protection is neccesary when using very loud machines that could damage your hearing. Can prevent going deaf or bleeding ears.
Respiratory Protection: Breathing apparatus and air filters can protect you from small dust particles that could damage your lungs. Or Stop you from breathing in chemicals and fumes in the air. Neccesary when sanding, Spraying chemicals, or spray painting.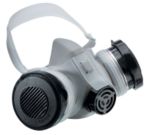 Emergency equipment and guidelines
Safety protocols: Having proper safety protcols in place can help save lives if there is an accident. calling 111 and having a first aider on hand always helps.
First aid: every workshop should have a fully stocked First aid kit in case of emergency, this includes bandages, pain relief, and medicines.
Fire Exstinguisher: Every workshop should also have a fire exstinguisher. Also the right type of exstinguisher
Class A is for ordinary paper and wood fires.
Class B is for more flameable liquids like petrol or kerosene.
Class C is for electrical related fires.
Safety with Tools and power tools
Drills: Should wear goggles, safety boots, overalls
Grinders: Always wear goggles,safety boots overalls
hand tools: Always have a focused mind, If you work tools when you are sleepy you could hurt yourself.
General Workshop safety:
Always act appropriatly in a workshop, Running, fooling around, walking behind people without ther knowledge. Obeying the workshop rules can help prevent accidents.
Always keep peoples safety in mind when in the workshop and it will be a safer workplace.